So what is CBD, exactly? In this article we will try to educate you about Cannabidiol (CBD) and its effects. Here are some FACTS you need to know about CBD – Cannabidiol This picture is worth a thousand words. It truly is. Hemp IS NOT Marijuana!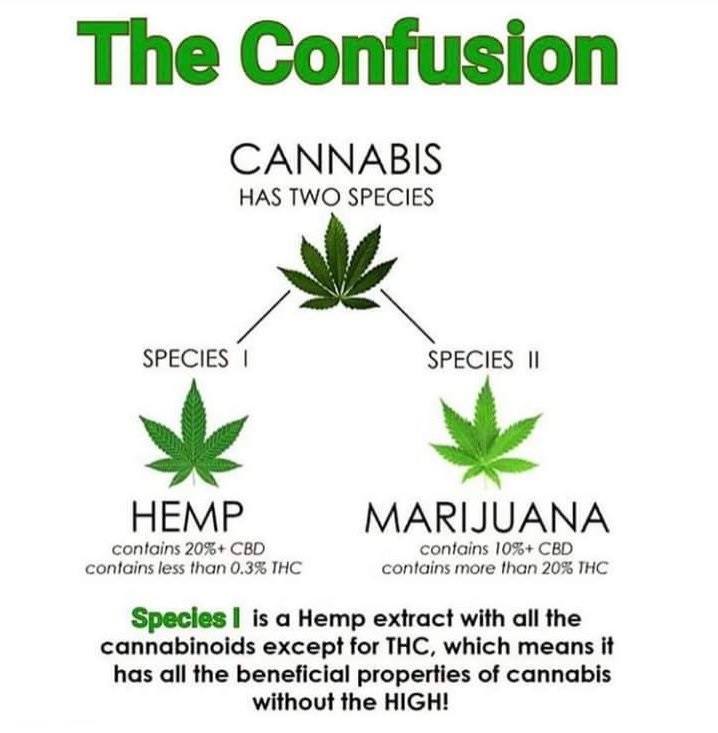 What is Hemp-Derived CBD?
HempWorx products are made from industrial hemp plants grown on Kentucky farms. Cannabidiol (CBD), a constituent that naturally occurs in industrial Hemp, is just one of over 85 cannabinoids that is identified in the cannabis plant. Our oil is CO2 extracted resulting in a solvent free, pure extract.
1.) CBD is a Primary Component of Cannabis
Cannabidiol (CBD) is a primary component of cannabis and the hemp plant. It is one of more than 85 compounds unique to the plant and grouped under the umbrella term cannabinoids. CBD and THC are the most prominent cannabinoids found in cannabis, but it is a much smaller component in the Hemp Plant then it is in the Marijuana Plant. Hempworx CBD oil is derived from the Hemp plant, making it significantly easier to remove the THC from our THC Free products. The products that do have THC contain such small quantities that it is well below the federal guidelines and they cannot get you high.
2.) CBD Oil Won't Get You High
CBD (Cannabidiol) will not get you high. The high people experience with marijuana is caused by THC. THC binds to the CB1 and CB2 nerve receptors in the brain and throughout the body. CBD does not bind to these receptors and instead causes its therapeutic actions through more indirect means.
CBD (Cannabidiol) will not show up on a drug screen, because it is not a high inducing agent. However, CBD oils with trace amounts of THC, can and will show up on drug screens and should be avoided if you work in an industry that screens for drug use. Unfortunately, we live in a society that cannot accept that trace amounts of THC are not necessarily a bad thing. Companies will assume that a positive hit for THC, even in trace amounts on a drug screen mean you are a drug user or a pothead.
Doctors treat many health conditions with pharmaceutical drugs that have unpleasant or dangerous side effects. CBD may offer non-toxic, virtually side-effect free, natural benefits for individuals who want to avoid or reduce the number of pharmaceuticals they are taking.

3.) CBD Oil from Hemp is Legal
Hempworx CBD products come from hemp plants. Because it has a low THC content (>.3%), hemp does not fall under the same federal guidelines as other Cannabis plants. This means that consumers are free to choose CBD as a natural supplement without worrying about any legal repercussions.
4.) The Human Body Produces Cannabinoids, and CBD Oil Helps
Phytocannabinoids are cannabinoids derived from plants. Endocannabinoids are cannabinoids produced naturally in the human body.
One example of an endocannabinoid is anandamide, or 'the bliss molecule.' This molecule activates the CB1 receptor.
Benefits of activating the CB1 receptor include:
Relieving depression [S]
Increasing myelin formation [S]
Lowering intestinal inflammation
Decreasing intestinal permeability (Leaky Gut Syndrome) [S]
Lowering blood pressure [S]
Lowering anxiety [S]
Reducing fear and paranoia [S]
An enzyme in the body known as FAAH is responsible for breaking down anandamide. Cannabidiol is an inhibitor of FAAH, meaning more anandamide to be available to the CB1 receptors.
Anandamide has been shown to stop the proliferation of breast cancer cells, promote anti-anxiety and antidepressant effects, and increases neurogenesis. Anandamide plays a role in memory and forgetting, creating a potential natural value for individuals with post traumatic stress disorder (PTSD).
5.) CBD Oil Effects Several Neurotransmitter Receptors
CBD is an allosteric modulator at several receptor sites in our bodies.
Allosteric modulators change the shape of specific receptors to alter their ability to interact with neurotransmitters.
CBD is a positive allosteric modulator of the mu and delta opioid receptors. This means it enhances the ability of these receptors to receive endogenous enkephalins which can increase quality of life and naturally reduce pain.
Inversely, Cannabidiol is a negative allosteric modulator of the CB1 receptor, reducing its ability to bind with THC; this explains why high-CBD cultivars of cannabis mitigate many of the unwanted side effects associated with THC. [S], [S]
At high doses, CBD activates the 5-ht1A receptor. The 5-ht1A receptor helps regulate anxiety, addiction, appetite, sleep, pain perception, nausea, and vomiting. CBDA (the raw form of CBD) shows an even higher affinity for the 5-ht1A receptor than CBD. [S]
CBD also antagonizes GPR55 receptors. GPR55 receptors are widely distributed in the brain (especially the cerebellum) and help to control bone density and blood pressure.
When activated, GPR55 promotes cancer cell proliferation. This antagonizing action may help explain the natural value of supplementing with CBD in individuals with cancer, osteoporosis, and high blood pressure. [S]
Cannabidiol activates TRPV1 receptors. TRPV1 is involved in regulating pain, body temperature, and inflammation. Other substances targeting TRPV1 receptors include anandamide, AM404 (a metabolite of acetaminophen), capsaicin, and various cannabinoids such as CBN, CBG, CBC, THCV, and CBDV.
Lastly, CBD activates PPAR-gamma receptors. PPAR-gamma receptors are located on the cell's nuclei and play a role in lipid uptake, insulin sensitivity, dopamine release and the degradation of beta-amyloid plaque. This is why CBD has been found to have natural value for individuals with diabetes, schizophrenia, and Alzheimer's disease. [S]

6.) Cannabidiol Oil May Help with Clinical Endocannabinoid Deficiency (CECD)
Clinical Endocannabinoid Deficiency is a condition where an individual has a lower amount of endogenous cannabinoids than is considered necessary to promote health and well-being.
Scientists now believe CECD may play a role in the following conditions:
Fibromyalgia
Irritable Bowel Syndrome (IBS)
Migraines
Multiple Sclerosis (MS)
Post-Traumatic Stress Disorder (PTSD)
Neuropathy
Huntington's
Parkinson's
Motion Sickness
Autism
Many of these conditions are treated with a range of medications that carry some heavy side effects. As the research develops, if CECD is found to be the culprit behind these conditions, CannabidiolCannal would help increase endocannabinoids in the body without many of the risks associated with pharmaceuticals.
7.) Cannabidiol Oil Has Numerous Natural Benefits
Cannabidiol is one of 85+ cannabinoids found in the cannabis plant, and much of the ongoing research has found it to be a promising potential therapy for many illnesses that medical professionals have previously thought to be untreatable, including:
8.) Cannabidiol Oil Helps Children with Seizures and Epilepsy
Perhaps one of the most exciting applications of Cannabidiol oil is its potential impact for adults and children with epilepsy.
Individuals who were experiencing dozens of seizures daily have found that CBD can dramatically decrease the these numbers.
Considering the shocking increase in children receiving prescriptions for various ailments, CBD oil may provide a non-toxic more natural alternative to pharmaceutical treatments, preventing children from experiencing long term damage or side effects.
9.) Acquiring CBD oil for your personal use
fghemp.com promotes Hempworx CBD oils and their other products because we believe their oils are purest on the market and they have a whole lot of testing to back that up. If you want to try their products or just find our more, follow one of the links below.